Drinking plenty of water, but still experiencing dry skin?
We are often led to believe that dry skin is an indication of dehydration, but dry, scaly and even irritated skin can also be an indication of an imbalance of your skin's natural oil called 'sebum'.
Your skin's sebum is a protective layer produced by your body's sebaceous glands, waxy and resistant to water, it seeks to hold in water and protect the skin from impurities, whilst simultaneously moisturising it, naturally. The sebum also supports the skin's elasticity, which is why it plays an important role in reducing lines and cracks due to dryness.
Interestingly, if you are experiencing blemishes as well as dry skin, this is a pretty good indicator that your skin is actively trying to rebalance this sebum, which may have been disrupted due to the use of harsh soaps, chemical laden skin products or even stress.

So what disrupts sebum production, leaving your skin feeling dry?
Washing with excessively hot water and/or harsh soaps or alcohol-based cleansers, which wash away this protective layer.
Cotton pillowcases and face washers, wick and wipe the natural oils from the skin's surface.
Stress, which effects hydration as well as the adrenal glands, in turn effecting sebum production.
Eating inflammatory foods, such as sugar, caffeine, salty and fried foods, excess meat and even alcohol.
Excess sun and wind exposure, dries out your skin.

How do you protect your skin's sebum?
Cleanse only once a day, in the evening using lukewarm water.
When cleansing, opt for a natural, oil base cleanser, rather than a soap cleanser. The Clean and Balance Cleansing oil by Paudha Healing contains Jojoba oil, which is the closest to our natural sebum. Organic Rosemary Extract, Essential Oils of Pink Grapefruit, Geranium & Ylang Ylang work to dissolve the 'bad oils' that can clog pores and lead to breakouts.
A soft cleansing cloth, such as one made from organic hemp or cotton fleece is a gentler approach to cleansing.
Moisturise with a cream rich in Calendula Oil. Calendula contains plant-based fatty acids which help restore hydration as it moisturises your skin. The seven-times Award winning Calendula and Chickweed Cream by Paudha Healing also contains the cooling properties of chickweed to soothe your irritated and inflamed skin.
Apply a protective serum layer before your moisturising cream. The blend of Jojoba, rosehip and calendula oils in Paudha Healing's Nourish and Repair oil provides a protective layer under your moisturiser, mimicking the skin's natural sebum, preventing it from drying out.
If you're a side sleeper, choose a satin pillow-case.
Try to reduce inflammatory foods, especially salty foods. Opt for fresh salads, vegetables and plant-based foods high in omega 3s, such as avocado and nuts. Of course, plenty of water is important to maintain hydration and flush out any nasties.
Practice mindfulness where possible. A simple 20-minute walk at the end of the day, a 10 minute morning meditation or committing to 30 minutes of your favourite wind down activity (such as reading) can work wonders in reducing stress and maintaining homeostasis.
Be sun smart. Wearing a hat outdoors will work wonders in protecting and ensuring balance to your skin.
Pack a botanical hydrosol in your handbag for windy days or your air-conditioned workplace. The tone and hydrate botanical mist is made from a soothing and hydrating botanical blend of infused waters, which offers skin hydration on the run and refreshes and calms your face and body.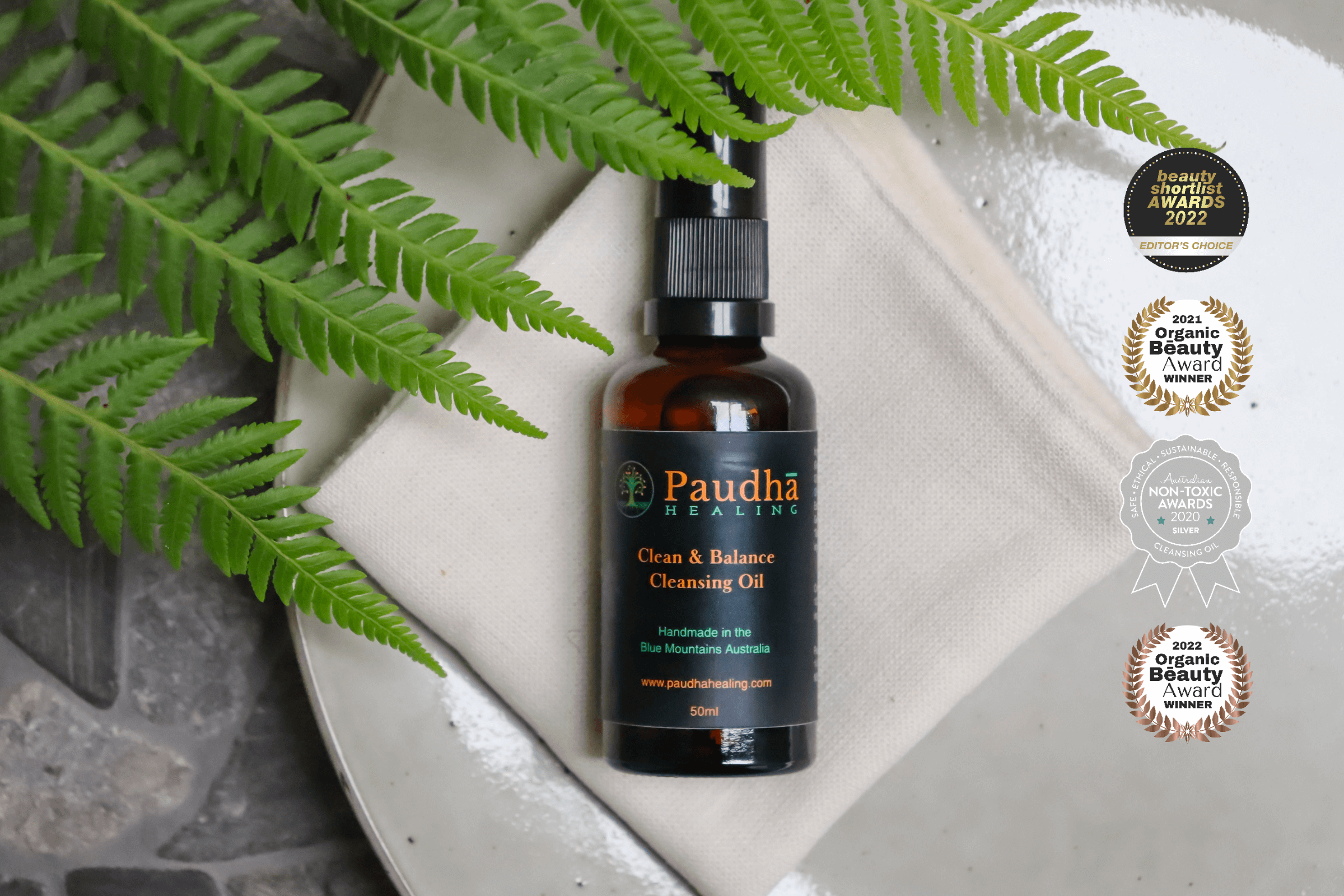 Remember, your skin is your body's largest organ. Harsh chemicals can greatly affect the balance of your skin, as it strips away the skin's sebum. It is important to try and work with this important natural oil, which is why we recommend choosing a skin care range made from natural ingredients to restore and soothe your skin is important.
First time visiting Paudha Healing website? Enjoy 15% off your first purchase when you join our mailing list.

Shop Paudha Healing Tone and Hydrate Botanical Mist